Mac Tech is manufacturer & supplier of Tubluar pole, Tubluar pole & other electric Tubluar pole. Tubluar pole are also known as street lighting poles. We are renowned Tubluar pole manufacturer in Uttarakhand, Patna, Guwahati, Gurgaon, Indore, Odisha, Ghaziabad, Agra, Raipur, Lucknow, Kolkata, Jaipur, Pune etc. A tubular pole, also known as a cylindrical pole or round pole, is a type of utility pole or support structure that has a cylindrical shape throughout its length. It is commonly used for various applications, including electrical power distribution, lighting, telecommunications, signage, and traffic management.
Tubular poles are typically made of steel or aluminum due to their strength, durability, and corrosion resistance. The cylindrical shape provides structural integrity and helps distribute loads evenly along the pole. The poles are often manufactured by rolling or extruding cylindrical sections of metal and then joining them together to achieve the desired height.
These poles come in different sizes and diameters, depending on their intended use and the load they need to support. They can range from a few meters in height for residential lighting applications to much taller structures for high-voltage power transmission lines.
Tubular poles are versatile and can accommodate various attachments and accessories. They may have brackets, arms, or cross-arms for mounting electrical equipment, lighting fixtures, or other functional elements. These poles can be designed with removable sections for ease of installation and maintenance.
Tubular poles offer several advantages, including their structural strength, ease of transportation and installation, and aesthetic appeal. Their cylindrical shape allows for a sleek and uniform appearance, making them suitable for both urban and rural environments. They are widely used in infrastructure projects to provide support, stability, and functionality in different applications.
Description :-
Product Details :-
Thickness
3 to 6 mm
Length
3-25metre
Type
Double Arm
We are manufacturers & suppliers of Tubular poles, Tubular poles & other electric Tubular poles.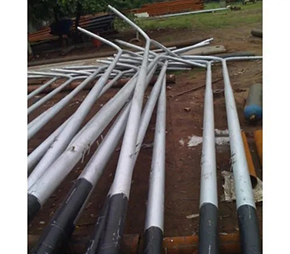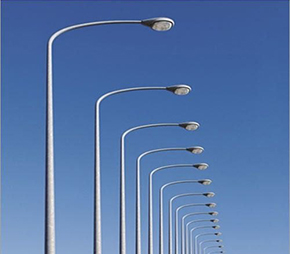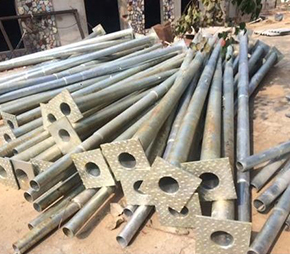 OUR NETWORK AREA
Tubular poles Manufacturer in Guwahati
Tubular poles Manufacturer in Kolkata
Tubular poles Manufacturer in Patna
Tubular poles Manufacturer in Ghaziabad
Tubular poles Manufacturer in Gurgaon
Tubular poles Manufacturer in Jaipur
Tubular poles Manufacturer in Uttarakhand
Tubular poles Manufacturer in Pune
Tubular poles Manufacturer in Indore
Tubular poles Manufacturer in Lucknow
Tubular poles Manufacturer in Odisha
Tubular poles Manufacturer in Agra
Tubular poles Manufacturer in Raipur
Tubular poles Manufacturers in Bhutan
Tubular poles Manufacturers in Nepal
Tubular poles Manufacturers in Bangladesh