Mac Tech is manufacturer & supplier of Flag Mast Poles, Flag Mast Poles & other electric Flag Mast Poles. Flag Mast Pole are also known as street lighting poles. We are renowned Flag pole manufacturer in Uttarakhand, Patna, Guwahati, Gurgaon, Indore, Odisha, Ghaziabad, Agra, Raipur, Lucknow, Kolkata, Jaipur, Pune etc. A flag mast pole, also known as a flagpole or flagstaff, is a tall vertical structure designed to display flags. It is typically made of materials such as aluminum, steel, fiberglass, or wood. Flag mast poles come in various heights, ranging from a few feet to several hundred feet, depending on their purpose and location.
Here are some key features and characteristics of Flag mast poles:
Flag mast poles are commonly used in public and private spaces, including government buildings, schools, sports arenas, residential properties, and commercial establishments. They serve as a prominent way to showcase national, state, organizational, or decorative flags. Flag mast poles are usually equipped with mechanisms to raise and lower flags, such as halyards (ropes) and pulleys, allowing for the hoisting and maintenance of flags.
In addition to the traditional single flagpole design, there are also configurations like multiple flagpoles arranged in a row, forming what is known as a flag display or flag array. These arrangements are often used for showcasing the flags of different countries or organizations side by side.
Flag Mast is generally used for Hoisting National flag. It has one or more polygonal segments. The Flag is movable type. Mac Tech FLAG MAST has designed in such a way that the impact or wind will be minimum. Special guide has been provided to Guide the flag.
Description :-
Product Details :-
Thickness
3 to 8 mm
Length
12 to 40metre
Type
Ring
We are manufacturers & suppliers of Flag Mast Pole, Flag Mast Pole & other electric Flag Mast Poles.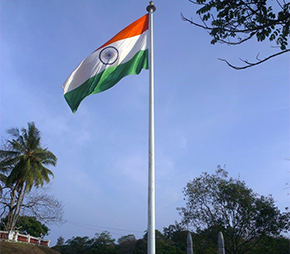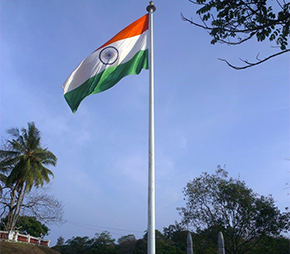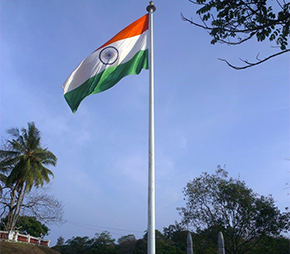 OUR NETWORK AREA
Flag Mast Pole Manufacturer in Guwahati
Flag Mast Pole Manufacturer in Kolkata
Flag Mast Pole Manufacturer in Patna
Flag Mast Pole Manufacturer in Ghaziabad
Flag Mast Pole Manufacturer in Gurgaon
Flag Mast Pole Manufacturer in Jaipur
Flag Mast Pole Manufacturer in Uttarakhand
Flag Mast Pole Manufacturer in Pune
Flag Mast Pole Manufacturer in Indore
Flag Mast Pole Manufacturer in Lucknow
Flag Mast Pole Manufacturer in Odisha
Flag Mast Pole Manufacturer in Agra
Flag Mast Pole Manufacturer in Raipur
Flag Mast Pole Manufacturers in Bhutan
Flag Mast Pole Manufacturers in Nepal
Flag Mast Pole Manufacturers in Bangladesh