Mac Tech is manufacturer & supplier of High Mast Poles, high mast poles & other electric High Mast Poles. High Mast Pole are also known as street lighting poles. We are renowned conical pole manufacturer in Uttarakhand, Patna, Guwahati, Gurgaon, Indore, Odisha, Ghaziabad, Agra, Raipur, Lucknow, Kolkata, Jaipur, Pune etc. A high mast pole, also known as a high mast lighting pole, is a tall structure designed to provide elevated lighting for large areas. It consists of a vertical pole or mast with a lighting fixture mounted at the top. High mast poles are commonly used in outdoor spaces that require extensive and uniform illumination, such as highways, airports, ports, sports stadiums, and large parking lots.
Here are some key features and characteristics of high mast poles:
1. Height: High mast poles are significantly taller than standard lighting poles. They typically range from 20 meters (65 feet) to over 50 meters (165 feet) in height, although the exact height can vary depending on the specific application and requirements.
2. Lighting fixtures: High mast poles are equipped with multiple lighting fixtures mounted on a crossarm or luminaire platform at the top of the pole. The fixtures are often equipped with powerful, high-intensity discharge (HID) lamps, such as metal halide or high-pressure sodium lamps, which provide high lumen output and wide light distribution.
3. Illumination coverage: The primary purpose of high mast poles is to provide extensive and uniform lighting over a large area. They are designed to distribute light evenly in a circular or rectangular pattern, depending on the lighting requirements of the space.
4. Adjustable features: Some high mast poles are equipped with motorized or mechanical systems that allow for adjusting the angle and direction of the lighting fixtures. This feature enables operators to optimize the lighting direction based on specific needs, such as illuminating different sections of a sports field or adjusting the lighting for traffic flow on highways.
5. Structural stability: High mast poles are engineered to withstand strong winds, inclement weather conditions, and other environmental factors. They are designed to provide stability and resistance against vibrations, ensuring the safety and longevity of the structure.
6. Maintenance and accessibility: High mast poles often have features that facilitate maintenance and access to the lighting fixtures. These may include lowering systems that allow the fixtures to be brought down to ground level for maintenance or built-in platforms and ladders to provide safe access for maintenance personnel.
Overall, high mast poles are designed to offer efficient and effective lighting solutions for large outdoor areas, providing enhanced visibility, safety, and security.
Description :-
Product Details :-
Thickness
3 to 8 mm
Length
12 to 40metre
Type
Ring
We are manufacturers & suppliers of High Mast Poles, high mast poles & other electric High Mast Poles.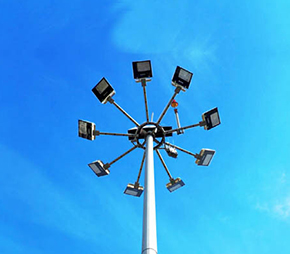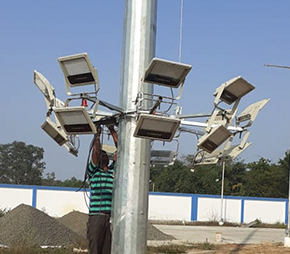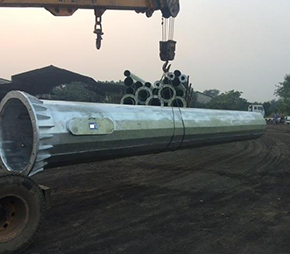 OUR NETWORK AREA
High Mast Pole Manufacturer in Guwahati
High Mast Pole Manufacturer in Kolkata
High Mast Pole Manufacturer in Patna
High Mast Pole Manufacturer in Ghaziabad
High Mast Pole Manufacturer in Gurgaon
High Mast Pole Manufacturer in Jaipur
High Mast Pole Manufacturer in Uttarakhand
High Mast Pole Manufacturer in Pune
High Mast Pole Manufacturer in Indore
High Mast Pole Manufacturer in Lucknow
High Mast Pole Manufacturer in Odisha
High Mast Pole Manufacturer in Agra
High Mast Pole Manufacturer in Raipur
High Mast Pole Manufacturers in Bhutan
High Mast Pole Manufacturers in Nepal
High Mast Pole Manufacturers in Bangladesh