Mac Tech is manufacturer & supplier of Solar Light Pole, Solar Light Poles & other electric Solar Light Pole. Solar Light Pole are also known as street lighting poles. We are renowned Solar Light Pole manufacturer in Uttarakhand, Patna, Guwahati, Gurgaon, Indore, Odisha, Ghaziabad, Agra, Raipur, Lucknow, Kolkata, Jaipur, Pune etc. In today's times, there is a growing demand for renewable resource solutions to adopt sustainable approach in everyday living. Illumination is one such criterion that has seen significant innovations bringing in great alternatives that have successfully replaced street lights with the solar powered ones. With this switch, there has been an influx of the need for solar street lighting solutions. Working with necessities around the globe, we understand the need. That is what makes us the leaders in solar lighting.
Here are the key components and features of a typical solar light pole:
1. Most solar lights turn on and turn off automatically by sensing outdoor light using solar panel voltage. Solar streetlights are designed to work throughout the night. Many can stay lit for more than one night if the sun is not in the sky for an extended period of time. Older models included lamps that were not fluorescent or LED. Solar lights installed in windy regions are generally equipped with flat panels to better cope with the winds.
2. The solar panel is one of the most important parts of a solar street light, as the solar panel can convert solar energy into electricity that the lamps can use. There are two types of solar panels commonly used in solar street lights.
3. Strength and durability: Despite being lightweight, swaged poles maintain their strength and durability. The tapering design distributes the load more efficiently, allowing the pole to withstand wind forces and other environmental stresses. The use of high-quality materials, such as steel or aluminum, further contributes to their strength and longevity.
4. Batteries will store the electricity generated by the solar panel during the day and provide energy to the fixture during the night. The life cycle of the battery is very important to the lifetime of the light and the capacity of the battery will affect the backup days of the lights. There are two types of batteries commonly used in solar-powered street lights- gel cell deep cycle batteries as well as lead acid batteries.
5. Strong poles are necessary to all street lights, especially to solar street lights as there are often components mounted on the top of the pole: fixtures, panels and sometimes batteries. However, in some newer designs, the PV panels and all electronics are integrated in the pole itself. Wind resistance is also a factor.
It's worth noting that swaged poles may have limitations in terms of height and load capacity compared to other pole types, such as monopoles or lattice towers. Therefore, the suitability of swaged poles depends on the specific use case and the required specifications for the pole.
Description :-
Product Details :-
Thickness
1 to 3 mm
Length
3-6metre
Type
Double Arm
We are manufacturers & suppliers of Solar Light Pole, Solar Light Pole & other electric Solar Light Pole.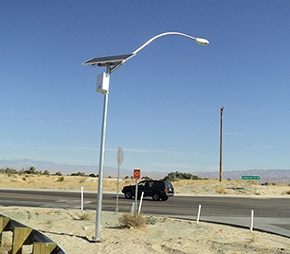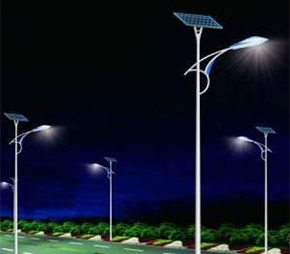 OUR NETWORK AREA
Solar Light Pole Manufacturer in Guwahati
Solar Light Pole Manufacturer in Kolkata
Solar Light Pole Manufacturer in Patna
Solar Light Pole Manufacturer in Ghaziabad
Solar Light Pole Manufacturer in Gurgaon
Solar Light Pole Manufacturer in Jaipur
Solar Light Pole Manufacturer in Uttarakhand
Solar Light Pole Manufacturer in Pune
Solar Light Pole Manufacturer in Indore
Solar Light Pole Manufacturer in Lucknow
Solar Light Pole Manufacturer in Odisha
Solar Light Pole Manufacturer in Agra
Solar Light Pole Manufacturer in Raipur
Solar Light Pole Manufacturers in Bhutan
Solar Light Pole Manufacturers in Nepal
Solar Light Pole Manufacturers in Bangladesh